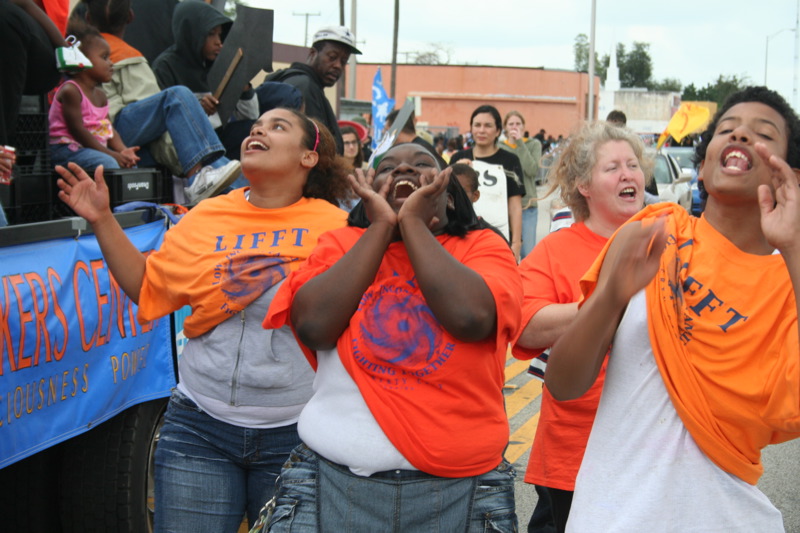 San Francisco Rally Supports
U.S. War Resisters in Canada
As demonstrators rallied across the U.S. July 9, news came that war resisters Corey Glass and Joshua Key granted reprieves by a Canadian court hearing their cases. However, Robin Long, another war resister was jailed in Nelson, British Colombia and faces deportation within days.
In San Francisco, more than 50 military veterans, religious leaders and peace activists rallied in front of the Canadian Consulate July 9, to protest the expected deportation of Glass and Key, who face court martial, imprisonment and dishonorable discharges if deported to the U.S. This was one of 14 vigils and delegations across the U.S. today in support of U.S. war resisters attempting to remain in Canada while resisting participation in illegal and immoral occupation wars.
Today's actions were organized in less than two weeks in response to a deportation order issued against war resister Corey Glass, an Iraq War veteran who was a sergeant in the Indiana National Guard. In a surprising victory, a Canadian Federal Court granted Corey a last minute reprieve of at least several months while his lawyers are given an opportunity to appeal earlier negative rulings.
Corey's victory today is related to a similar win by Iraq War veteran Joshua Key on the 4th of July. According to the Canadian Federal Court ruling in Joshua's favor, the regular abuse of Iraq civilians at the hands of the U.S. military are systematic violations of the Geneva Conventions, and should be a basis for granting refugee status.
Meanwhile, conscientious objector Robin Long has been taken into custody by local police in the small town of Nelson, British Columbia. Robin and his lawyer have been told that he may be deported as soon as Tuesday. If this is allowed to occur, Robin would be the first war resister deported back to the U.S. since the beginning of the Vietnam War.
In a vote last month, the House of Commons called on the Canadian government to "immediately implement a program" to allow war resisters to remain in Canada. Prime Minister Stephen Harper's government has clearly not yet taken the will of the Canadian people or Parliament into account. The U.S. actions are joined by organizing efforts in Canada by the War Resisters Support Campaign and many others.
[TOP]
---
Chicago Action Defends War Resisters
Chicago joined the dozen or more cities that had demonstrations at Canadian Consulates today. This was to call on the Canadian government to allow the hundreds of resisters to the U.S. military to be provided with sanctuary in Canada. This is the will of the Canadian people, and the Canadian legislature, but not the government Executive. One U.S. resister was to be deported tomorrow and another on Monday (both received temporary reprieves).
In Chicago some 50 protesters assembled in front of the Prudential Building at noon with placards and bullhorns. Protestors distributed 500 leaflets. Participants included representatives from Iraq Veterans Against the War, Veterans for Peace, The World Can't Wait, American Friends Service Committee, and a number of other groups.
Two members of Iraq Vets Against the War went up to the Canadian Consulate to talk with an official there. They reported back afterward that they presented the stand that those who resist the illegal and unjust U.S. wars in Iraq and Afghanistan should be honored as heroes and be allowed to stay in Canada. They were assured that a report on the visit would be made. The vets said that we here in the U.S. need to step up work against the war and for justice for war resisters and all those resisting U.S. aggression and repression. Below we reprint a copy of the leaflet distributed at the demonstration.
* * *
Support War Resisters in the Military! ALL Troops Home Now!
We are here demonstrating outside the Canadian Consulate. We are calling on the Canadian Government to allow the hundreds of American resisters to the U.S. military who have gone to Canada to seek asylum to be welcomed. We are calling on the Canadian government to follow the policy it had during the U.S. aggression against Vietnam — provide a sanctuary for American war resisters.
As shown in the film "Breaking Ranks," many American youth who have enlisted in the U.S. military have found that the experience is one that jars their conscience and morality. They cannot go along with the lies used to justify the U.S. wars in Iraq and Afghanistan, the illegality and injustice of the wars, the racism, brutality and killing of innocent civilians. The American resisters need to be treated as courageous heroes, not criminals.
We who oppose the U.S. wars say, Bring All the Troops Home Now! As part of this we say, support those military resisters who have refused to continue their participation in the U.S. military. And we call on the Canadian Government to go along with the Canadian people, who support the American resisters now living in Canada. We call on the Canadian Government to go along with the Canadian legislature, which recently passed a non-binding resolution calling for asylum for the American military resisters. And we call on the American people to step up their efforts to support all of the resisters to the U.S. military.
If you have questions or would like to support the resisters, feel free to contact us at ActForJustice@AOL.com or 773-250-3335
[TOP]
---
Skies Cry for the Dead and Displaced in New Orleans
March on the Mayors
Skeletons danced in the sky above the crowd gathered in the parking lot of the Bethel AME church in Overtown, the historic African-American neighborhood in Miami. More than 350 representatives of seven U.S. cities bore cardboard coffins with their city's name blazing in red paint across the side. A New Orleans second-line brass band, To Be Continued, formed in 2002 when the musicians were still in high school, blared out old standards pushing the crowd forward.
As the March on the Mayors took to the streets in Miami, uniting urban struggles for racial and economic justice from across the country under the demand for a democratic Right to the City, the sky opened. But oceans of rain could not drown the spirit of the crowd.
The March on the Mayors marched from Overtown through downtown Miami to just outside the InterContinental Hotel, where hundreds of the nation's mayors were meeting at the U.S. Conference of Mayors.
Marchers, residents from seven mega-metropolitan regions in the United States, carried umbrellas painted with their messages. From community control of land and stopping slumlords to queer rights and the right to return for Katrina and Rita Survivors, the messages all converged expressing a growing movement for racial justice, economic justice and self-determination in U.S. cities.
Grassroots activists marched and rallied in pouring rain to tell the mayors that poor people have a Right to the City. Bringing up the rear of the march was the KatrinaRitaVille Express (see www.krvexpress.org), a FEMA trailer touring the country to raise awareness of the ongoing nature of the crisis in the region and the continued lack of coherent government action to rebuild the region, particularly to rebuild in a manner that meets the needs of its poor and residents of color.
When the march reached the InterContinental Hotel, representatives of different cities took the stage. The rain came down heavier and the sea of umbrellas tightened up creating a common shelter from the driving storm. Spirits and hope remained high and the familiarity of the moment was not lost on the dripping crowd.
Ursula Price, of Safe Streets / Strong Communities (New Orleans), took the stage: "I ain't going to drown on that levee, and you ain't going to break my back," she called to the mayors. The crowds roared thunderously, and like the movement they are building, they stood stronger together against the storm, defiant and fighting.
From Miami to Oakland and Back Again
The 11 members of the New Orleans brass band To Be Continued, young men just out of high school, braved pouring rain to tell the mayors that Katrina survivors have the right to return home. Said Lauren Wheeler of Just Cause Oakland, who lived in Miami and returned for the action, "As we marched from Overtown to the Inter-Continental Hotel, for the first time ever, I walked through these streets with a feeling of ownership. Our demands were clear — accountability to the masses who built these cities and keep them running. The rain did not stop us — if anything, it felt as though the sky joined us in solidarity, shedding tears for the dead and displaced in New Orleans. The march reflected who we are, what our communities are — loud, joyous, and powerful.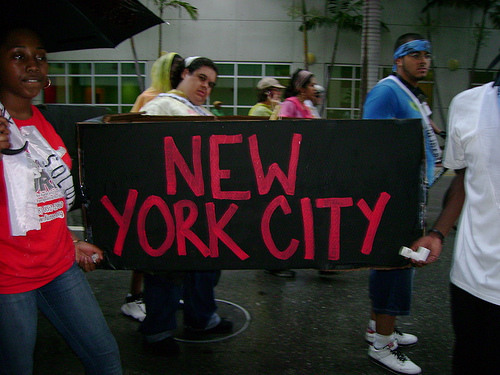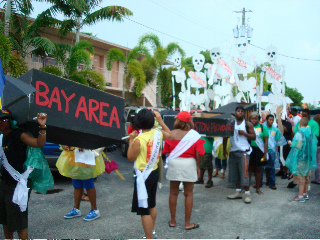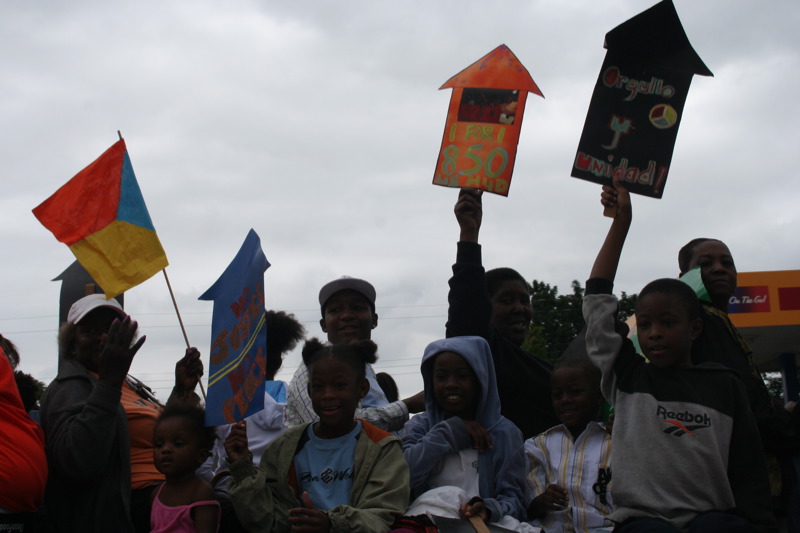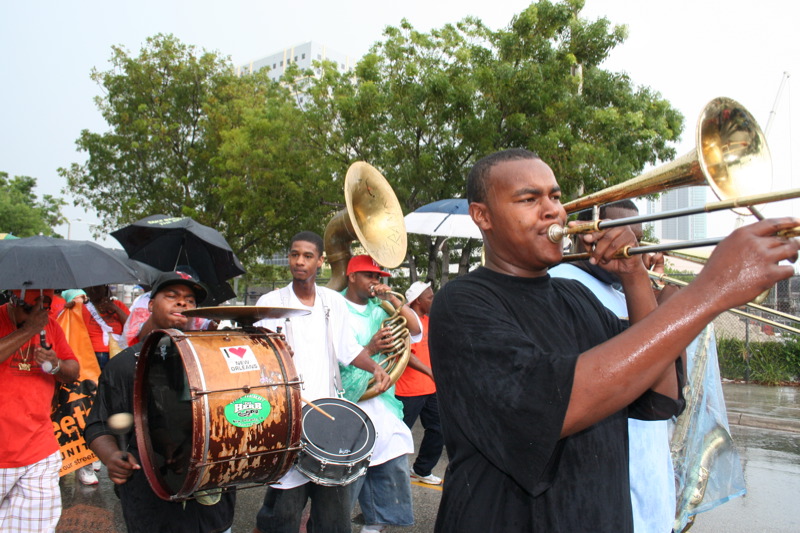 [TOP]
---
Right to the City People's Summit
The drums pounded deep, echoing off the brick walls of Miami Dade College's downtown campus. Startled police standing guard at the corner craned their necks to see what the commotion was. Dancers in feathered headdress and neon-bright outfits blew whistles calling forward towering drummers, hands furiously pounding out a beat that could move the dead. Security opened the doors to the first floor conference hall and the Bahamian Junkanoo band danced into the crowd, 300 strong.
And that is how it started: the Right to the City People's Summit, the kick off event for the March on the Mayors mobilization. Preempting the U.S. Conference of Mayors by a day (held in Miami from June 20-24), Right to the City mobilized over 150 people nationally and 150 locally to build a progressive national urban agenda.
During the opening panel discussion of the People's State of the City Summit, Rob Robinson, from Picture the Homeless in New York City, captured the theme of the night, "At the United States Social Forum we started thinking about how to build a national movement that could unite us and build our power. That movement is getting stronger by the day."
There were brief reports from activists: Rob Robinson, Picture the Homeless (NYC), Robbie Clark, Just Cause Oakland (Oakland), John Liss, Tenants and Workers United (DC Area), Ursula Price, Safe Streets / Strong Communities (NOLA), Jaron Brown, POWER (San Francisco), and La'Kedra Robertson, Katrina Information Network (NOLA).
The conversation meandered from the fight in the Gulf coast against Katrina Profiteers to the questions about supporting Barack Obama as a way of defeating reactionary sectors of the Right. "There are many ideas here in the room. There are many fights represented, from the right to return for Katrina survivors to the fight to preserve public safe space for queer youth in New York City," said Sushma Sheth of the Miami Workers Center. "But we are all building a united movement for the Right to the City with racial justice, economic justice, and self-determination at its core."
Next were comments from the gathered delegates. Many spoke about the need for more housing for low-income people. Some spoke about the inspiration they have to fight. "I've learned to fight for my rights and to be treated like a human being," said John, a youth member of Strategic Actions for a Just Economy (SAJE) in Los Angeles. Kate Hutchinson from Miami said, "Disabled people need to know how to organize and win. I want to be a voice for those who have died without getting any help."
Facilitators then passed out blank sheets of paper and asked people to write down their declarations for the Right to the City. These declarations were collected and will be forged into a draft of an urban platform.
"I am humbled to be here with so many people who are fighting together. We need to take this energy back home with us and keep on building this movement," said Robertson.
And then the drums sounded again, raising everyone to their feet, moving everyone, each with their own style, but each dancing to the same beat, to the same drummer.
Source: Participant Report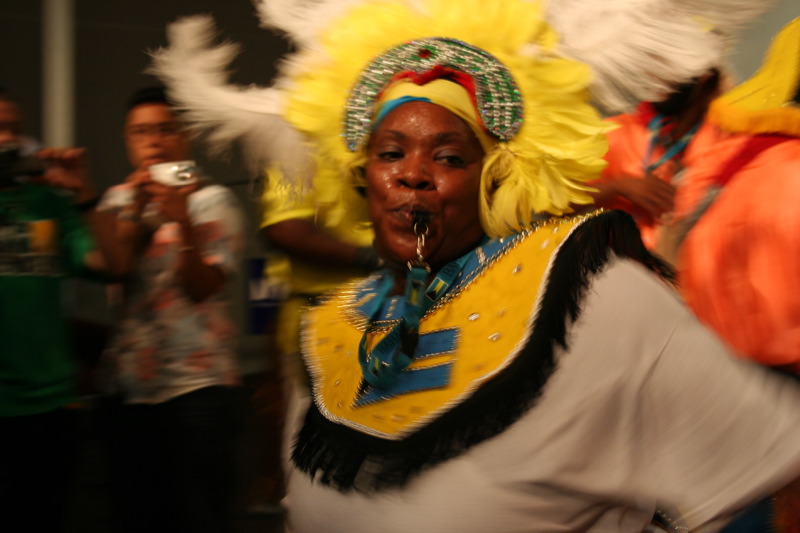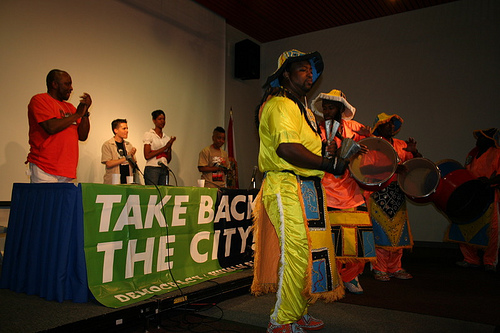 [TOP]
---
Chicago, July 10-13
2008 Green National Convention:
Live Green, Vote Green
The Green Party of the United States has released an updated schedule for the party's national nominating convention, at which the Green presidential ticket will be chosen by Green delegates.[VOR note: Cynthia McKinney won the nomination for president and Rosa Clemente will be her vice-presidential running mate.]
The convention, titled "Live Green, Vote Green," will take place July 10-13 in Chicago (http://www.greenparty2008.org). The schedule of news conferences and other media events and a list of guest speakers are below. The nomination will take place on Saturday, July 12 at the Chicago Symphony Center.
Jesse Johnson, Cynthia McKinney, Kent Mesplay, and Kat Swift are the four contenders for the Green presidential nomination. Information on the apportionment of the party's 836 state and caucus delegates is being compiled at "2008 Green Party Presidential Nomination Delegate Count."
The Green Party encourages live blogging from the convention. The Chicago Symphony Center convention site will provide Internet access for registered media.
Friday, July 11 events will feature a 9am news conference featuring Green candidates for Congress and an 11am news conference featuring candidates for other public offices. From 7-9pm there will be a Presidential Candidates' Forum.
For Saturday July 12, there will be a 9am news conference with Green presidential candidates. Speeches by featured speakers Kathy Kelly, Malik Rahim, and Cliff Thornton, and the four presidential candidates, will take place from 9:30am to noon. In the afternoon Omar López and Dr. Jill Stein will speak beginning at 1pm. The candidates chosen for president and vice-president will then speak, beginning at approximately 2:30pm.
Featured Speakers
Malik Rahim: former Black Panther and Green Party candidate, co-founder of Common Ground Collective/Relief, an organization that provides medical care and relief to victims of hurricane disasters in the gulf region. Visit www.commongroundrelief.org.
Kathy Kelly: co-founder of Voices in the Wilderness, an organization that worked to end sanctions in Iraq beginning in 1996 and continues anti-war activity Visit www.vcnv.org.
Omar López: teacher and Green candidate for the U.S. House in Illinois' 4th District, a principal convener and leader of the historic mega-marches of March 10 and May 1, 2006, in defense of the rights of undocumented immigrant workers and constitutional rights under attack by the Sensenbrenner House Bill 4437. Mr. López has co-founded numerous labor, tenant, immigrants' rights, and bilingual education organizations, and is director of CALOR, which provides services to Latinos affected by HIV/AIDS and other diseases. Visit www.omarlopez2008.org
Dr. Jill Stein: physician and founder of the Massachusetts Coalition for Healthy Communities. Dr. Stein ran for Secretary of the Commonwealth in 2006 with the Massachusetts Green-Rainbow Party, garnering 351,495 votes (18 percent). Visit www.masschc.org
Cliff Thornton, Jr.: long-time social justice and drug policy reform activist and Green candidate for Governor of Connecticut in 2006. Mr. Thornton is co-founder of Efficacy, which works for the reform of drug laws and criminal justice policies. Visit www.efficacy-online.org
Links to Green Presidential-Candidates' Websites:
Jesse Johnson http://www.jesse08.org
Cynthia McKinney http://www.runcynthiarun.org
Kent Mesplay http://www.mesplay.org
Kat Swift http://www.voteswift.org
More on Green candidates running for various offices in 2008:
www.gp.org/elections.shtml
http://www.gp.org/elections/candidates/index.php
For more information:
www.gp.org
[TOP]
---
San Francisco Green Party Endorses Cindy Sheehan
The San Francisco Green Party (SFGP), a powerful force in progressive San Francisco politics, has endorsed the independent run by peace activist Cindy Sheehan against Democratic Speaker of the House Nancy Pelosi in November.
The SFGP decision means Sheehan, who lost her son Casey in the war in Iraq, will have a strong ally in her bid to upset Pelosi in the 8th Congressional District. Greens hold several key San Francisco elected positions, including SF Supervisor Ross Mirkarimi, and Mark Sanchez, president of the SF Board of Education, who is running for a supervisor slot.
"We are glad she is taking on Speaker Pelosi, who has been a huge disappointment even to her Democratic Party base," said Erika McDonald, spokesperson for the SFGP.
"We admire Sheehan's bravery in standing up to the corrupt two-party system. She has suffered immeasurable loss because of the unwillingness of our government to stand up for justice," added McDonald.
The Greens, who are not putting up a candidate of their own in the race, hope to provide some needed muscle for Sheehan, who must collect about 10,000 signatures by August 8 to have her name put on the ballot. As of this past week, she had about 3,500 signatures.
The goals of the Green Party and Sheehan are similar — protect U.S. troops in Iraq by ending the war now, a position rejected by Pelosi and other Democrats in Congress who say they are opposed to the war, but continue to fund billions for it.
Greens, like Sheehan, have endorsed the impeachment of President George W. Bush, Vice-president Dick Cheney and other Bush Administration officials. Sheehan also comes from working class roots, which compares favorably to the Green Party's strong social justice platform.
[TOP]
---
Green Party Draft Platform
As part of our continuing election coverage, and to assist our readers in analyzing the various parties running candidates, we reprint below an excerpt of the Green Party, U.S. draft platform for 2008. The full program is available at www.gp.org. The Green Party finalized the platform and choose their presidential and vice-presidential candidates at their National Convention, July 10-12, 2008, in Chicago. As with other parties, the presidential candidate chosen is not bound to the platform and is free to change or add to it. The candidates are Cynthia McKinney for President and Rosa Clemente.
Proposed Platform for the Green Party, U.S.
Introduction
The Green Party of the United States is a federation of 46 State Green Parties. Greens are dedicated to social, environmental, economic and political justice. The four pillars that underpin our policies are grassroots democracy, social justice, ecology and non-violence.
The Green Party is distinguished from other political parties by its independence from corporate control. We accept no contributions from Corporations and are not beholden to the corporate paymasters.
The Green Party of the United States is a partner with the European Federation of Green Parties and the Federation of Green Parties of the Americas. Green parties are the first parties to recognize that our role in the world is stewardship of Earth's natural resources rather than domination and unrestrained consumption of the goods of the Earth. Greens recognize that human survival depends on our understanding and commitment to our stewardship role.
In 1996, the Association of State Green Parties was formed near Middleburg, Virginia. In 2001, it changed its name to Green Party of the United States (GPUS) and was recognized by the Federal Election Commission that same year. […]
10 KEY VALUES
1. Grassroots Democracy: Every human being deserves a say in the decisions that affect his or her life and should not be subject to the will of another. Therefore, we will work to increase public participation at every level of government and to ensure that our public representatives are fully accountable to the people who elect them. We will also work to create new types of political organizations that expand the process of participatory democracy by directly including citizens in the decision-making process.
2. Social Justice and Equal Opportunity: All persons should have the rights and opportunity to benefit equally from the resources afforded us by society and the environment. We must consciously confront in ourselves, our organizations, and society at large, barriers such as racism and class oppression, sexism and homophobia, ageism and disability, which act to deny fair treatment and equal justice under the law.
3. Ecological Wisdom: Human societies must operate with the understanding that we are part of nature, not separate from nature. We must maintain an ecological balance and live within the ecological and resource limits of our communities and our planet.
We support a sustainable society that utilizes resources in such a way that future generations will benefit and not suffer from the practices of our generation. To this end we must practice agriculture, which replenishes the soil; move to an energy efficient economy; and live in ways that respect the integrity of natural systems.
4. Non-Violence: It is essential that we develop effective alternatives to society's current patterns of violence. We will work to demilitarize, and eliminate weapons of mass destruction, without being naive about the intentions of other governments. We recognize the need for self-defense and the defense of others who are in helpless situations. We promote non-violent methods to oppose practices and policies with which we disagree, and will guide our actions toward lasting personal, community and global peace.
5. Decentralization: Centralization of wealth and power contributes to social and economic injustice, environmental destruction, and militarization. Therefore, we support a restructuring of social, political and economic institutions away from a system, which is controlled by and mostly benefits the powerful few, to a democratic, less bureaucratic system. Decision making should, as much as possible, remain at the individual and local level, while assuring that civil rights are protected for all citizens.
6. Community Based Economics: Redesign our work structures to encourage employee ownership and workplace democracy. Develop new economic activities and institutions that will allow us to use our new technologies in ways that are humane, freeing, ecological and accountable, and responsive to communities. Establish some form of basic economic security, open to all. Move beyond the narrow "job ethic" to new definitions of "work," jobs" and "income" that reflect the changing economy.
Restructure our patterns of income distribution to reflect the wealth created by those outside the formal monetary economy: those who take responsibility for parenting, housekeeping, home gardens, community volunteer work, etc. Restrict the size and concentrated power of corporations without discouraging superior efficiency or technological innovation.
7. Feminism and Gender Equity: We have inherited a social system based on male domination of politics and economics. We call for the replacement of the cultural ethics of domination and control with more cooperative ways of interacting that respect differences of opinion and gender. Human values such as equity between the sexes, interpersonal responsibility, and honesty must be developed with moral conscience. We should remember that the process that determines our decisions and actions is just as important as achieving the outcome we want.
8. Respect For Diversity: We believe it is important to value cultural, ethnic, racial, sexual, religious and spiritual diversity, and to promote the development of respectful relationships across these lines. We believe that the many diverse elements of society should be reflected in our organizations and decision-making bodies, and we support the leadership of people who have been traditionally closed out of leadership roles. We acknowledge and encourage respect for other life forms than our own and the preservation of biodiversity.
9. Personal and Global Responsibility: We encourage individuals to act to improve their personal well-being and, at the same time, to enhance ecological balance and social harmony. We seek to join with people and organizations around the world to foster peace, economic justice, and the health of the planet.
10. Future Focus and -Sustainability: Our actions and policies should be motivated by long-term goals. We seek to protect valuable natural resources, safely disposing of or "unmaking" all waste we create, while developing a sustainable economics that does not depend on continual expansion for survival. We must counterbalance the drive for short-term profits by assuring that economic development, new technologies, and fiscal policies are responsible to future generations who will inherit the results of our actions. Make the quality of life, rather than open-ended economic growth, the focus of future thinking .
[TOP]
---